The Toronto Star Arena Clock
Address: Located within the Welland Arena, 501 King Street
Designated: 2011
By-law Number: 2011-103
Reason for Designation
Welland's Toronto Star Arena Clock is an excellent example of a Canadian Advertising Clock, produced by clock companies in Ontario and Quebec starting from the 1920's for the Canadian market. Furthermore, it is an excellent example of a timepiece typically installed in Ontario arenas in the mid-20th century, and is one of the few remaining original electric arena clocks in the Province, with its original-style mechanisms, and in its original location.
The clock exemplifies the important place of Sports Arenas as a social and cultural institution in Canadian culture. Welland's Arenas are a fine example of this trend, which began in the 1940's-50's throughout the Province and has continued to grow in importance. The fact that Welland now has two arenas, with up to date digital, centre-ice, game timer clocks, makes its original Toronto Star Arena Clock in its original arena even more significant. The Welland Arena and the Toronto Star Arena Clock have continuously served the local community for more than 60 years.
The Heritage attributes include the original clock face featuring Toronto Star advertising, the original-style electric clock mechanism, manufactured by Day Signs of Oshawa, and the fact that the clock is in its original location at the Welland Arena.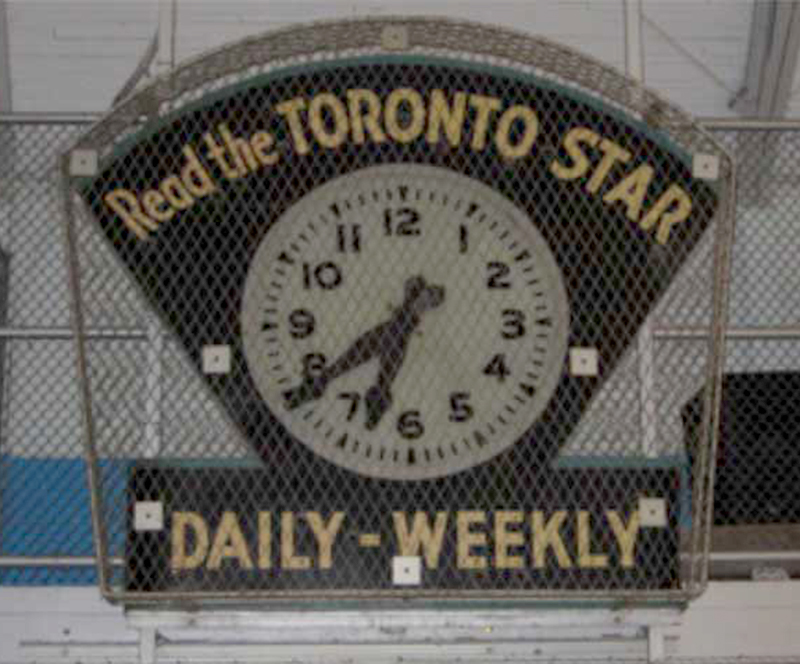 Scroll