Welland Courthouse
Address: 102 East Main St.
Built: c. 1855-56
Designated: 1984
By-law Number: 1984-7951
Reason for Designation
Architectural Significance:
The Welland County Court House, built in 1855-1856, was designed by Kivas Tully, one of Canada's leading architects who is noted for his pleasing proportions found in all of his Ontario Court Houses. Designed in a Neo- Classical style and three storeys in height, the building's front façade is dominated by a monumental pediment which is supported by four Ionic columns that rise from the second storey porch and are flanked by twin staircases.
Built with Queenston Limestone of an even coursing, the structure has numerous features worthy of note. The second floor has projecting pediments and brackets over all windows while the windows found on the third level are trimmed by a stone moulding with eared blocks and keystones. Continuous sills underscore both second and third floor structural openings. The main entranceway is topped by a stone tablet and flanked by windows which have curved pediments. Such a variety in window pediments and mouldings is rare and seldom found.
A decorative frieze provides a base for the low hipped roof upon which sit two cupolas. Originally two small cupolas sat to either side of a large octagonal cupola which is capped by a domed roof.
The Court House's pleasing proportions and symmetrical façade illustrate a style and grandeur of architecture which will probably never be seen in Welland again.
Historical Significance
In 1851 the southern section of the Niagara Peninsula detached itself politically from the district below the Niagara Escarpment and formed a Provisional Council for the purpose of municipal government. Knowing that becoming the county seat would bring a village commercial and political advantage, several communities vied for the right to host the new County's headquarters. But in 1854, largely due to the influence of Warden John Frazer, Merrittsville (later to be renamed Welland) won out.
Located on the corner of East Main Street and Cross Street, the Court House is Welland's most important architectural link to its past. Moreover, the fortunes of the city were tied to its designation as the county seat, for prior to that designation Welland was a village of little significance. After the construction of the Court House Welland began to grow and prosper, soon overshadowing rival communities such as Port Robinson, Fonthill and Cooks Mills.
Justice has been dispensed in the Court House for well over one hundred years. On several occasions between 1859 and 1956 offenders have paid the ultimate penalty for their deed upon gallows constructed in the jail yard.
The Court House is an architectural monument not only to the history of the City of Welland, but to the history of the entire Niagara Peninsula as well.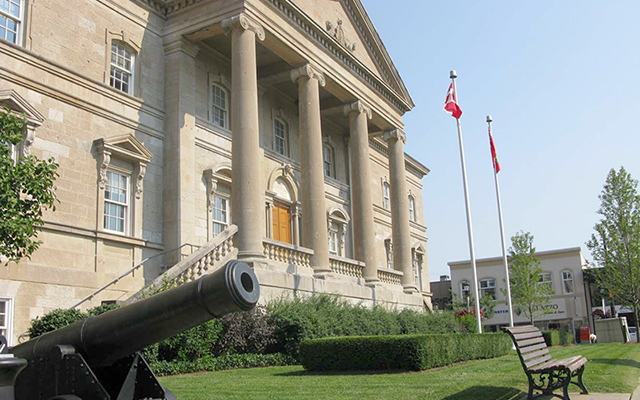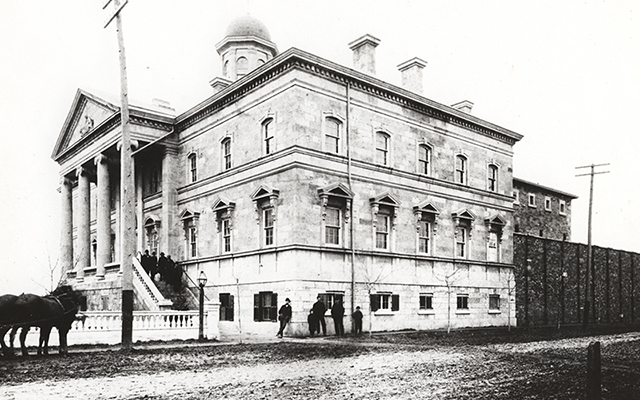 Scroll