Tuckey-Lee Building
Address: 73-77 West Main St.
Built: c. 1856
Designated: 2004
By-law Number: 2004-43
Reason for Designation
This brick building is believed to be the oldest surviving commercial structure in downtown Welland. It was built circa 1856 for Dr. Alfred J. Burns in the early Italianate commercial style. The north facade facing West Main Street in particular displays many characteristics typical of this style. These include an elaborate and deeply projecting wooden cornice at the roof supported by ornamental brackets and underscored by a continuous decorative frieze; double hung two over two second story windows in semicircular arch shape topped with brick voussoirs and keystones and a secondary decorative bracketed wooden cornice above two deeply recessed first floor storefronts. The oldest storefront, no. 75 at the easterly end of the building, remains virtually unchanged since the 19th century with original wooden columns flanking the entry and original transom windows of coloured, pebbled glass in fanlight pattern above its two display windows.
The original owner, Dr. Alfred Burns, who used the building as a home and office, was one of the first physicians to serve the hamlet of Merrittsville (later Welland). He died in 1861 at the early age of 29. The building was purchased from Dr. Burns shortly after its construction by Jesse Stoner, and remained in the hands of the Stoner family until 1872, when it was sold to Charlotte Tuckey. Jesse Stoner was the grandson of Christian Stoner, one of the first pioneers to settle in Humberstone Township from Pennsylvania. Jesse's wife Catherine was the daughter of David Price, known as "Welland's first settler". Catherine Street ("the Brick Road") is named for Catherine Stoner.
For the majority of the years between 1872 and 1929, this was the location of Tuckey's Jewellers, run by Charlotte's husband James, and later their son James A. Tuckey, until his death in 1929. James A. Tuckey converted the west side of the building (no. 77) from residential to commercial use about 1920, and over the course of the twentieth century the two retail spaces housed, in addition to Tuckey's jewellers, Stanley Jackson's Jewellers, John Oliver's wallpaper, barbers George A. Pearsons and Charles Goss and, from 1946 until the end of the century, John Aceti's barbershop. The building is currently owned by Gordon Lee and the entire first floor commercial area is occupied by a florist shop, Blooms and Petals by Laura.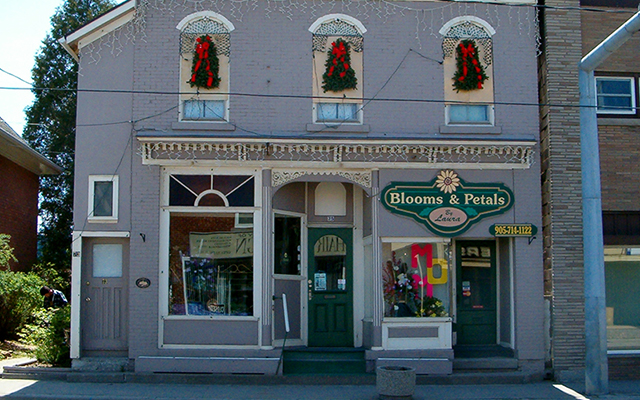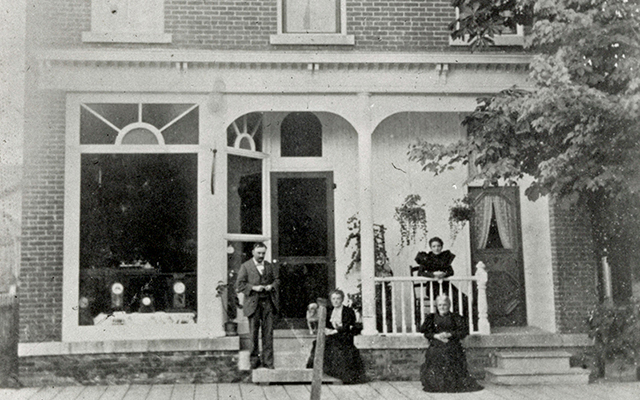 Scroll