Brick Archways
Address: Located at Parkway, Welland, ON
Designated: 2019
By-law Number: 2019-51
Description of Property
- Brick Archways at Parkway, Welland, ON
The two brick archways are located at the entrance to the sidewalks of Parkway from Niagara Street, one at the sidewalk entrance on each side, and sit within the road allowance of Parkway.
Statement of Cultural Heritage Value or Interest
The brick archways at the entrance to Parkway were constructed in 1913 as part of a gated entranceway to a new subdivision called "Parkway Heights" developed by Laughlin Realty. Parkway Heights came into being during a period of rapid growth and industrial development for Welland between 1905 and 1915 when the first large multinational industries including Plymouth Cordage, Electric Steel and Metals, Page Hersey Iron Tubes and Union Carbide located in Welland and Crowland. These industries were to dominate Welland's economic life for the next 100 years.
Parkway Heights was an "elite" subdivision developed on farm land purchased from the pioneer Price family. The impressive entrance gate between the archways opened onto Parkway Drive, the only street in Welland at that time with a treed boulevard down the centre. This is where many of Welland's prominent industrialists, business people and merchants lived, including Cyrenius J. Laughlin, president of Laughlin Realty, and the presidents and general managers of many of the new industries.
Description of Heritage Attributes
Key attributes of these structures that reflect their value as important landmarks in Welland for over 100 years:
Archways mark the entrance to the sidewalks on Parkway from Niagara Street
Constructed of "tapestry" brick in a pattern of varying colours throughout the brickwork
Each archway consists of two square brick pillars with a stringcourse (decorative horizontal band) of projecting bricks three rows from the top extending around all sides
The pillars of each archway support a hipped roof that covers the sidewalk between the pillars. The roofs are additionally supported by four triangular wooden brackets with a concave curve that rest on the stringcourses of each pillar.
Currently the roofs are covered with wooden shakes. The ceiling on the underside of each above the sidewalk is a wooden board ceiling.
Originally the archways were lighted and supported an iron entrance gate across the street at Parkway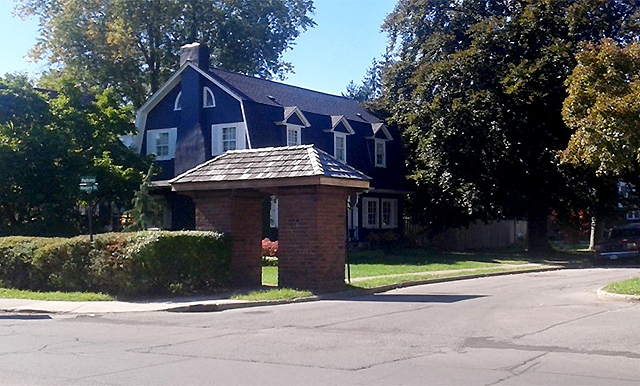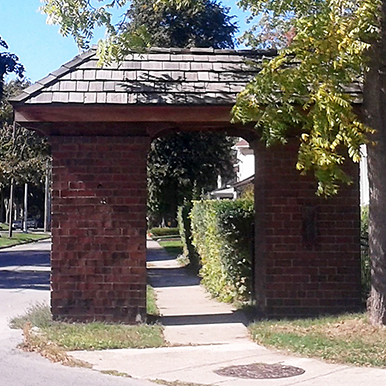 Scroll