Welland Canal Second Aqueduct
Address: located on the east side of the Welland Recreational Waterway (former Welland Canal) along the Boardwalk and directly west of the present City Hall at 60 East Main Street.
Designated: 2022
By-law Number: 2022-114
Description of Property
- Welland Canal Second Aqueduct
This stone aqueduct, now largely filled with earth, is located on the east side of the Welland Recreational Waterway (former Welland Canal) along the Boardwalk and directly west of the present City Hall at 60 East Main Street.
Statement of Cultural Heritage Value or Interest
This stone aqueduct was built between 1842 and 1850 during construction of the Second Welland Canal to replace the original 1829 wooden aqueduct which carried the Canal over the Welland River (Chippawa Creek). Constructed of thousands of cut stones weighing approximately one ton each, it consists of a series of four stone arches supporting a large trough through which the canal and ships once passed. It was designed by Irish born engineers Walter and Francis Shanly and built by contractor Samuel Zimmerman. This aqueduct remained in use until construction of the Fourth Welland Canal (1913-1932).
The first urban settlement in what is now Welland came about due to the necessity to construct an aqueduct (of which this is the earliest surviving example) over the Welland River and the nucleus and downtown core of the present city grew up around it. The settlement itself was first known as "Aqueduct", later "Merrittsville" and finally "Welland". The aqueduct, therefore, can be said to be the catalyst that created this community.
Description of Heritage Attributes
Key attributes of the aqueduct that reflect its value as the oldest surviving aqueduct on the Welland Canal are:
constructed of thousands of ashlar cut stones weighing approximately one ton each,
consists of a series of four stone arches 45 feet wide with a span of 45 feet each capped with rows of stone voussoirs and stabilized with projecting buttresses that support a large trough (now infilled with earth) through which the canal and ships once passed.
when it was completed in the 1840's, the aqueduct measured 45 feet wide and over 315 feet long.
may be the oldest surviving stone aqueduct to carry water transportation in Canada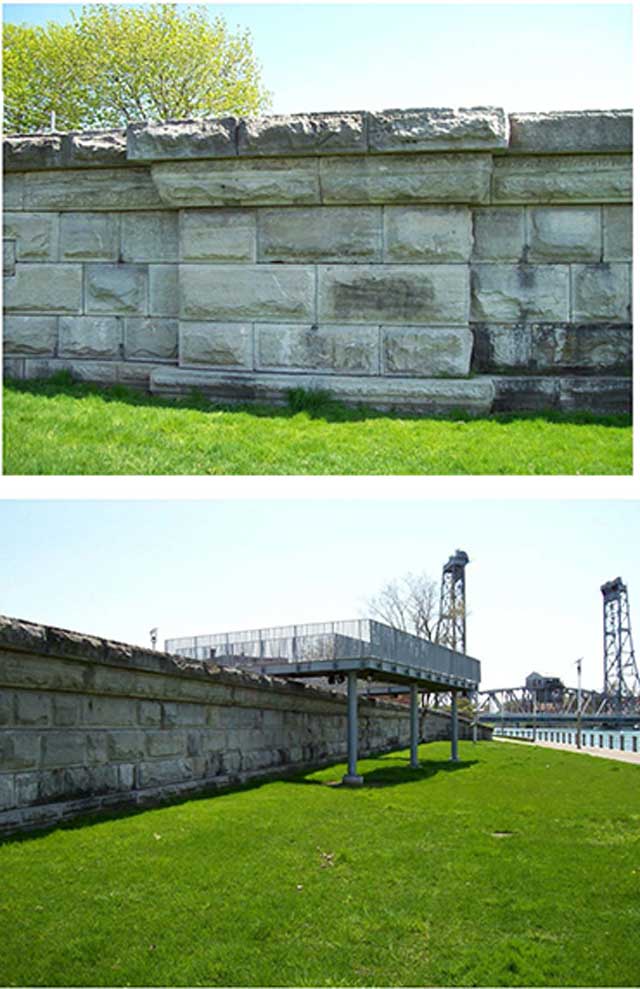 Scroll