Morwood House
Address: 28-30 Young St.
Built: c. 1861
Designated: 1991
By-law Number: 1991-9775
Reason for Designation
Richard Morwood, along with his brother James, came to Welland in 1856 from New York State. Richard Morwood went into partnership with an established merchant, James McCoppen, and subsequently with his brotherin-law Hugh A. Rose. In 1864, Mr. Rose sold his business interest to Morwood.
The R. Morwood and Co. remained in the Morwood family until the store, located on West Main Street, was destroyed by fire in the early 1970's. Much of the store's prosperity came from the shipping traffic on the canal. After Richard Morwood's death in 1893, his sons took over the family business.
Richard Morwood was active in politics, being a Councillor for nine years for the Village of Welland and three years for the Town of Welland, Reeve of the Village in 1863 and was elected Mayor of the Town of Welland four times. He was an active member of the Methodist Church and donated the site for what is now Central United Church. Mr. Morwood also donated the land for the former Central Public School. The present site of the Welland Farmer's Market was once part of the Morwood property.
The Morwood House was built over a number of years, with the east wing built, at the latest, in 1864. It would appear that the south façade of the more plain east wing was added to at the time of the construction of the west wing to present a more unified face to the street. The west wing, dated to the late 1860's, is executed in a picturesque variant of the Italianate style. Its typically Italianate characteristics include the brackets under broadly projecting eaves, low pitched front and rear gables, shallowly arched windows and semi-elliptical, double front door with heavy moulding and frosted or etched glass panels. Gothic elements can be seen in the two storey west bay with its steeply pitched Gothic gable and the profusion of carved decoration on this bay and above the windows on all three facades. The unusual window arrangement of large central panes flanked by smaller side panes is drawn from the Classic Revival styles of the early part of the century. The front porch, which wraps around the west wing, visually binds together the front facades of both wings. Its Queen Anne "bandshell" style marks it as being at least twenty years younger than the rest of the house. The facades of the building are of clapboard and shiplap siding. The interior woodwork of the original west wing, including the hardwood flooring, paintgrained woodwork, front door and circular staircase are also of significance.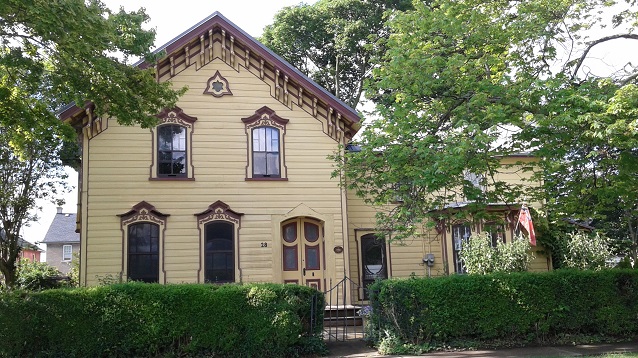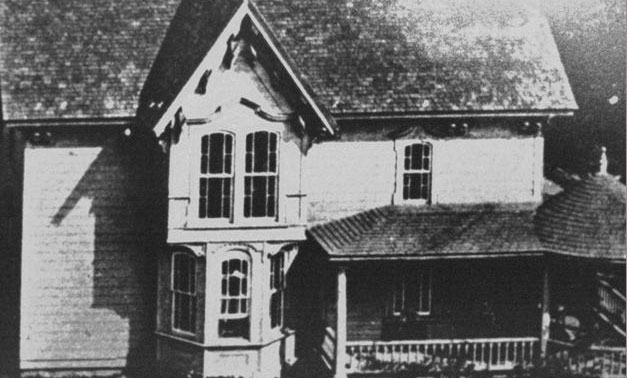 Scroll