Ukrainian Labour Temple
Address: 342 Ontario Rd.
Built: 1935
Designated: 2005
By-law Number: 2005-155
Reason for Designation
As befits its name, this small one storey assembly hall is reminiscent of a Greek temple minus its ornamental elements. The temple form is echoed in its rectangular shape, gable end arrangement and front façade with pediment shaped roofline above a prominent central doorway. This entrance carries most of the decorative detailing in its double paneled doors. A small pediment with chipped gable above the entrance echoes the one above, while the flanking rectangular windows and contrasting geometric shapes below the cornice also focus attention on the main entrance. The simplified geometric features of the façade reflect elements of the abstract architectural styles (Deco, Moderne and International) popular during the 1930's. Its interior woodwork, wainscoting, doors, windows and tin ceiling are original. Much of this woodwork was salvaged from the old Post Office building in Hamilton, Ontario.
This is the second Ukrainian Labor Temple built in Welland. Welland's first Ukrainians arrived before 1914. Most came to work on the Toronto, Hamilton and Buffalo Railroad or on canal construction when the Welland Canal expansion was begun in 1913. As a minority in their homeland of Galicia they had suffered social, political and religious repression. In 1916 the first branch of the Ukrainian Social Democratic Federation in Canada was organized in Crowland (now part of Welland), and in 1917 they built a hall at the end of Sixth Street, the first of its kind for Ukrainians in Canada. The Welland group became part of the Ukrainian Labor and Farmer's Temple movement during the 1920's.
This temple was the focal point for the political, social and cultural life of Welland's Ukrainians. Plays and concerts in the Ukrainian language were put on at the hall and a school taught children the Ukrainian language. A mandolin orchestra was started in 1926 under the direction of Gregory Smook. The original hall was moved to the present location on Ontario Road in 1926 but was burned in 1935 in the aftermath of the Crowland Relief Strike, during which members had provided food and shelter for the strikers at the Temple. The current building was constructed the same year entirely with volunteer labor donated by local members of the Association.
The Ukrainian Labor Temple is currently home to the Association of United Ukrainian Canadians (A.U.U.C.), the successor to the Ukrainian Labor Farmer Temple Association and provides space for a number of cultural and social activities, including the Shevchenko Senior Citizens Club and the Welland Ukrainian Mandolin Orchestra (A.U.U.C.)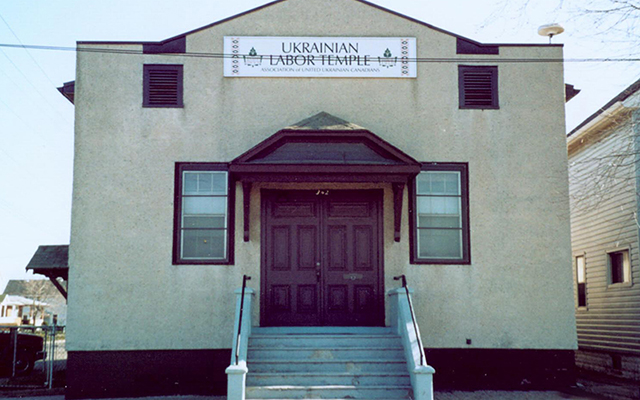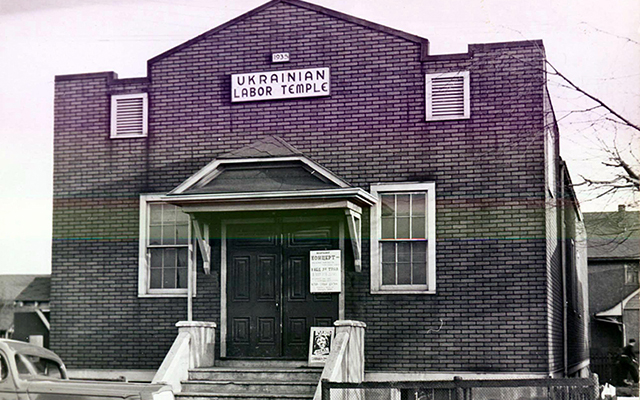 Scroll