Reilly-Coulson House
Address: 53 Maple Ave.
Built: 1873
Designated: 1994
By-law Number: 1994-10365
Reason for Designation
In June, 1872, Susan Buchner purchased Lot 69 on the south side of Jane Street (Maple Avenue) from Thaddeus Hooker, owner of Hooker Brickyard. Henry Buchner, husband of Susan, was a great grandson of Crowland's first white settlers. Henry Buchner died shortly after the house was constructed and it was subsequently purchased by Hugh Rose on November 17, 1875. Ten days later, Thaddeus Hooker purchased the house as a wedding present for his son Daniel. Daniel, who served on the School Board for six years, was elected to Town Council in 1889, 1890, 1894, 1900, 1901, 1902 and 1903, was Deputy Reeve in 1895 and 1896 and was elected Mayor in 1898 and 1899.
In 1906, the house was sold to Millicent Reilly. Joliffe Reilly, husband of Millicent, and his brother Crowell operated Reilly and Reilly Shoes at 19 East Main Street. A daughter of Millicent and Joliffe, Mary Elletta, married Charles H. L. Coulson in 1916. They resided at 53 Maple Avenue and assumed ownership on the death of Mr. Reilly in 1928. Charles Coulson was appointed City Engineer for the City of Welland in 1918 and held the position until 1952. His father, John, was Governor of the Welland County Jail from January 18, 1884 until 1913. A daughter of Charles, Mary Lou, married Robert D. Peart. They still own and reside in the house. Their daughter was the fourth generation in this family to be raised in this house.
The house was constructed in three phases, the first being built in 1873 in the Italianate style. Some of the exterior features include wide eaves and long, narrow, round-arched openings (windows and doors) capped with voussoirs in contrasting buff brick. A one-storey addition was constructed in the Italianate style in 1878. A second storey was added to the addition between 1910 and 1914.
A weather station, originally located at the Governor's House adjacent to the Court House, was moved to 53 Maple Avenue by Charles Coulson. It was rebuilt by Mr. Coulson in the 1930's and was used as the 'offficial' weather report for the Welland Tribune until Mr. Coulson's death in 1957.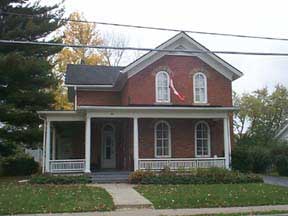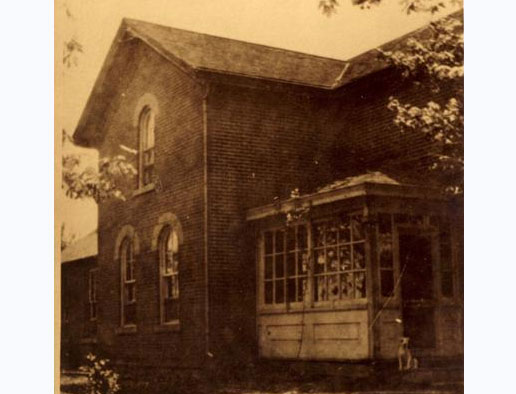 Scroll