Raymond-Gross-MacClellan House
Address: 20 Evan St.
Built: 1911-1915
Designated: 1992
By-law Number: 1992-9888
Reason for Designation
In 1910, Colonel Lorenzo Clarke Raymond, K.C., purchased two blocks of land where the subject house is situated. Colonel Raymond, the son of Lorenzo Dulmage Raymond, Q.C., succeeded his father as County Attorney in 1891, a position he held for the next 50 years. L. Clarke Raymond was appointed Colonel of the 44th Battalion of the Militia in 1897 and was created King's Counsel in 1908. Colonel Raymond was the first President of the Welland Club when it was founded in 1910.
In January 1925, Colonel Raymond sold the house to Arthur J.J. Brennan, a pharmacist who purchased the J. Hamilton Burgar drugstore at 7 East Main Street. Mr. Brennan was a member of the High School Board for many years, was elected to City Council in 1918 and became Mayor in 1919. In 1929, Douglas D. Gross purchased the house. His father, John Franklin Gross, was a member of the School Board, Town Councillor in 1855 and 1887, a liberal Member of Provincial Parliament from 1900 to 1905 and appointed City Solicitor in 1913. Douglas Gross succeeded his father as City Solicitor until his death in 1933. The house was subsequently sold to another solicitor, Thomas J. Darby, who was appointed to the Bench as a judge for Lincoln County in 1945. He was alderman for Welland in 1936, 1937, 1938 and 1940-41.
The house, built in an Edwardian Classical style, was constructed between 1911 and 1915. Some of the exterior features, such as the open porches, have been altered over the years. Typical elements include the contrasting stone trim below the windows, projecting eaves without supporing brackets and double entrance doors with full length glass panels edges with etched patterns.
The front entrance vestibule is finished in Italian marble and German tile. Light oak flooring in the lower and upper halls, living room, dining room and bedrooms is laid in concentric patterns with strips of dark oak or mahogany laid near the edge in elaborate designs. Two hand-carved stone fireplaces grace the living room and the north-west bedroom. The main floor, including the dining room and hallway, contains wood paneling of oak and gumwood. The living room has panelled posts, French doors and 12 inch mahogany baseboards. The breakfast room adjoining the kitchen has unique embossed, tooled leather and oak panelling. There are several leaded stained glass windows on the second floor. The ensuite bathrooms contain Doulton porcelain fixtures. Doorknobs through the house are of brass and cut glass in a pear shape.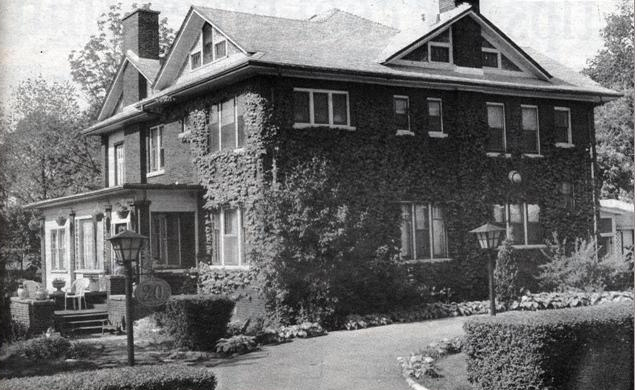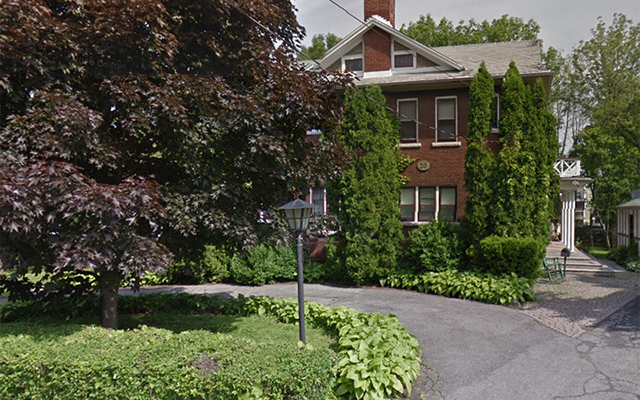 Scroll