Lawrence-Singer House – The Gingerbread House
Address: 204 East Main St.
Built: 1890
Designated: 1990
By-law Number: 1990-9424
Reason for Designation
The "Lawrence/Singer House" was built circa 1890 by Alfred E. Lawrence. Mr. Lawrence arrived in Welland in 1899 to take possession of one of Welland's earliest establishments, a furniture and undertaking business founded by F.X. Sauter in 1857. Lawrence remained in business in downtown Welland for the next 17 years. As a furniture maker, Lawrence constructed his house in the latest architectural style, with an abundance of ornament and variety of woodworking techniques which would showcase his skill as a cabinet maker and which would also befit his position within the community. In 1914, the house was sold to Mary L. Singer and remained in the Singer family until 1978.
The "Gingerbread House" is an excellent example of the eclectic and highly ornamented late Victorian style. Elements of Ontario "Cottage Gothic" can be seen in the irregular "L" shaped plan, steeply pitched gables and small front porch tucked in the curve of the "L". Bay windows on the south, east and west facades, an Italianate "Tuscan" tower set within the porch at the "L" and the abundance of "Gingerbread" on the porch and gables add to the variety and irregularity of the exterior in accordance with the Victorian "picturesque" ideal. The Italianate tower is topped with a Mansard roof, often called the "Second Empire".
The front bay window, with its stained glass and the front door, with its elaborate carved relief patterns and diaper work, stained glass and "quarter wheel" glazing, both show the influence of yet another late Victorian style, the Queen Anne Revival. The wheel motif of the front door is repeated in the "sawn" Gingerbread located in the Gable peaks, while a scalloped verge fascia of dripping loops and curving lines flows along the eaves.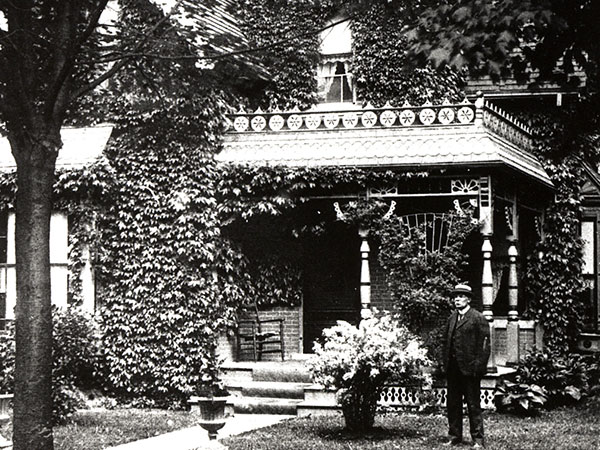 Scroll