Hooker House
Address: 33 Maple Ave.
Built: 1856-1857
Designated: 1991
By-law Number: 1991-9776
Reason for Designation
Thaddeus W. Hooker was born in Vermont in 1823. After moving to Niagara County, New York State, he married Susan Malvina Seaman in January 1846. In 1855, Hooker obtained a contract from Welland contractors Hellems and Bald to manufacture bricks for the construction of the Welland County Courthouse. He arrived in Welland in February of 1855 and constructed a brickyard on the west bank of the Welland Canal, south of what is now Hooker Street. He subsequently moved his family to Welland. Between 1855 and 1912, many of the brick buildings in Welland were constructed of Hooker bricks. Some commercial buildings still standing include 73-77 West Main Street, the Rose block at 28 West Main Street and the Hobson block at 43-49 West Main Street. In 1861, the brickyard produced 400,000 bricks. By 1902, as a result of several expansions, the output had increased to one million bricks.
Thaddeus Hooker was elected Reeve of Welland in 1861,1866,1868, 1879, 1880 and 1883. He also served as Councillor in 1862-64, 1873, and 1877. Mr. Hooker served on the school board for 20 years. The Hookers had eight children. When Thaddeus Hooker died in 1893, his son Daniel Delop Hooker took over the firm. Daniel served on the school board for six years, was a member of Welland Town Council for several years (1889,1890, 1894, 1897, and 1900 -1903) was Deputy Reeve in 1895-1896 and Mayor of the Town of Welland in 1898-1899.
The Hooker House was constructed in several phases. It was based on the "Ontario house" which was a type of small one and one half storey farmhouse with a low front gable in the eave of the upper storey. In April 1856, Hooker purchased Lot 66 from William Bald for $450.00. The north section of the east wing, if not present in 1856, was built in that year. In 1857, Hooker bought the adjoining lot (Lot 67). This permitted the expansion of the house by the addition of the west wing. These two sections of the house exhibit the characteristics of the typical "Ontario House" style. The windows and exterior doors have straight, heavy stone lintels, with the windows having heavy concrete sills. The exterior brickwork is an early example from the Hooker brickyard.
The third section, the south portion of the east wing, was likely constructed in the 1860's. It was built in the Italianate style, as indicated by the elliptical window headings with brick voussoirs. The Italianate brackets under the eaves of the entire home were probably added at this time.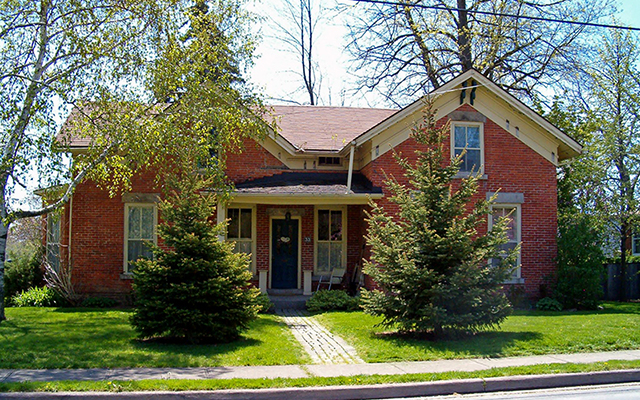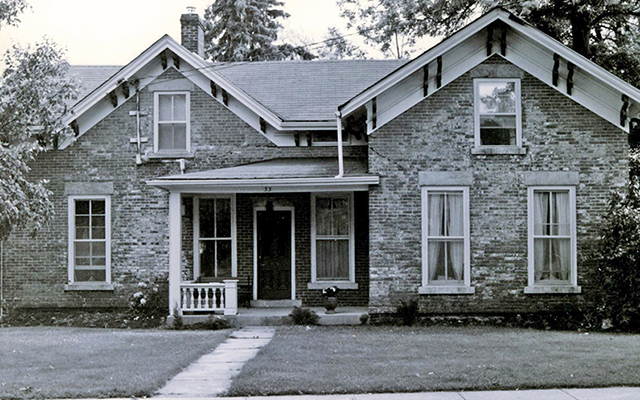 Scroll