Chaffey-Fennessy House
Address: 52 Chaffey St.
Built: 1912
Designated: 2004
By-law Number: 2004-44
Reason for Designation
Robert Chaffey, born at Stoke under Ham, Somersetshire, England, in 1844, was the grandson of Benjamin and Frances Chaffey who emigrated to Canada from Somerset about 1812. Robert came to the Welland area at age 26. The Chaffeys were an ancient English family with ancestors recorded in the Domesday book. After marrying Julianna McClelland in 1878 Robert farmed their acreage of 80 acres in Crowland Township and worked as a railroad switchman. He died in December 1915.
Robert's brothers George, Charles and William emigrated to California and founded the cities of Ontario, Etiwanda and Upland. George also founded Chaffey College of Agriculture in Chaffey, California. An engineer trained at Queen's University in Kingston, he became known as one of the master irrigation engineers of Western America. The brothers later emigrated to Mildura, Australia.
The Chaffeys subdivided their Crowland farm in 1909, and in addition to Chaffey Street, named other streets after the family: Beatrice Street for daughter Beatrice and Alberta Street for Alberta Topp, a McClelland relative. Shortly afterward they decided to build a new home and move from the original farm homestead (now 33 Beatrice Street).
George A. Mitchell, a relative of the Chaffey family, served as both architect and contractor for this two storey red brick house built at 52 Chaffey Street for Robert and Julianna Chaffey in 1913. It was constructed in the Edwardian Classical style of the early twentieth century and displays features typical of that style including a smooth brick exterior with stone accents, large paned front window with stained glass, and verandah with short colonettes set on brick piers. Inside it retains its original stained glass and oak woodwork throughout, including staircase, pocket and folding doors, and "dumb waiter".
Robert and Julianna Chaffey had five children: Beatrice Margaret, George, Charles, James Hugh Trenchard (Hugh) and Robert. After Julianna Chaffey's death in 1932, the house was owned and occupied by Beatrice, then James Hugh Chaffey. It remained in the Chaffey family until 1990, when Hugh's grandson Robert Charles sold it to Martin and Karen Fennessy. (Please note errors in above Chaffey family history. George, Charles and William Chaffey were cousins, not brothers of Robert Chaffey.)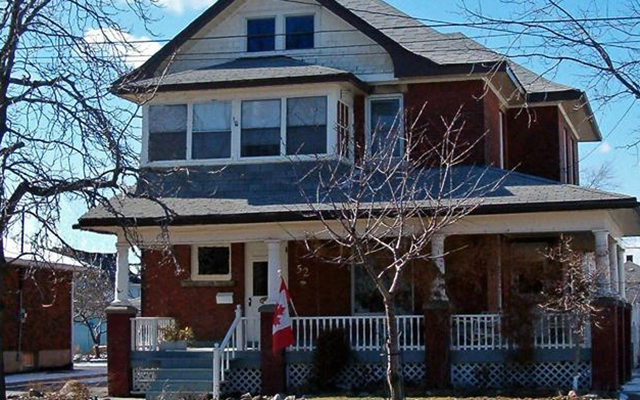 Scroll