Central United Church
Address: 88 King St.
Built: 1882
Designated: 1987
By-law Number: 1987-8757
The Central Methodist, and subsequently Central United Church, has been situated in the centre of Welland since 1862, and on the existing site since 1882. The Church is a central focal point within the City and has had an active presence within the community. The perseverance of its parishioners through the early stages of development, and through a period of disaster in 1907, signifies the spirit of members of Central United Church and of the Church in general.
The original structure erected on this site in 1882 was of Italianate design. During the 25th Anniversary of the new building in 1907, disaster struck twice. A roof fire in June of that year created water damage throughout the structure. Two months later, a city street roller with spiked wheels ruptured a gas main. The resulting explosion and fire demolished this fine structure leaving only the bell tower and foundation walls standing by nightfall.
The Church was rebuilt on the same foundation walls reflecting both the style and character of the original structure. The cut stone foundation of broken coursing rises to a height of approximately eight feet, where it meets the orange brick walls. A continuous stone band runs around the church dividing the foundation from the brick portion. The original bell tower and enclosed staircase was retained. The architectural and historical significance of the bell tower and facade of the church proper is deemed significant.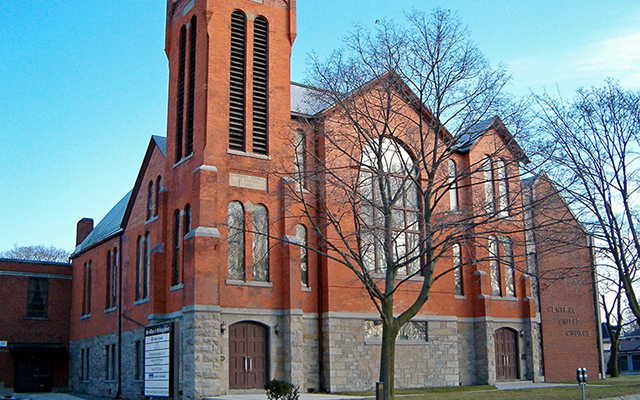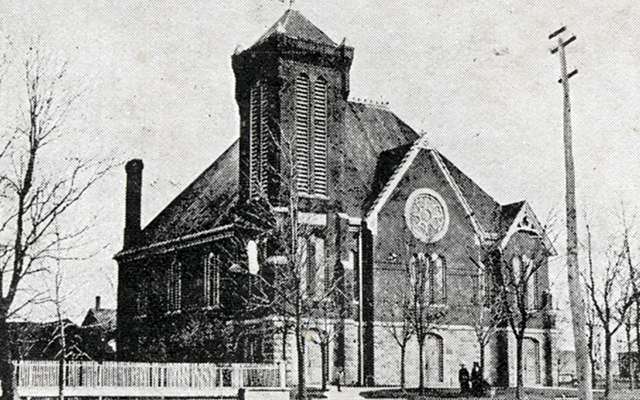 Scroll