Brookfield Cupido House
Address: 271 Division Street
Built: 1875
Designated: 2005
By-law Number: 2005-97
Reason for Designation
Originally constructed for Charles McCarter in 1875, the house was extensively rebuilt in the newer Edwardian/Queen Anne styling for Alexander Griffiths about 1906. A carpenter and later a painter, McCarter achieved a degree of local fame in 1872 with his patent for an improved folding wooden clothes dryer. After McCarter lost the house in 1877 it had a number of non-resident owners, including Englishman Joseph Thorn, Bertie Township Clerk and Member of Provincial Parliament Lt.-Col. James E. Morin, lumberman Arthur Young and Alexander Griffiths, owner of a saddlery and oil importing business who served as Deputy Reeve, Alderman and Mayor of Welland (1897).
The Brookfield family owned and lived here the longest. William Wesley Brookfield, a descendant of the pioneer Brookfield family of Crowland Township, purchased the home when he was appointed Superintendant of County Roads in 1912. After his death in 1935, his family continued to reside there. His daughter Mary, a teacher at Central Public School, sold the property in 1973. Since then it has had a number of commercial tenants, including accountant William J. Spicer and lawyer Paul D. Leon. It is currently owned by and serves as the offices of James W. Cupido, chartered accountant.
The south wing of the house retains its original Italianate style from 1875 with two over two arched windows, west door with fanlight and interior wood trim including panelled doors with original hardware.
The main (north) wing exhibits elements of the early 20th century Edwardian Classical style: solid massing, square columned front porch and large front plate glass window. Decorative touches in the Queen Anne style include "fish scale" shingles, stylized gothic windows under the gables and the oriel (suspended) bay window with decorative wood trim and supporting brackets on the west side. Of note inside is the solid oak trim, including original doors and hardware, a sliding seven panelled "pocket door", staircase and fireplace mantels and the elaborate columned archway spanning the double parlour. The fireplace in the front reception area (first floor, east side,) retains some of its original cast iron work and coloured tiles of exceptional quality. A leaded and stained glass window is located above the staircase on the east wall.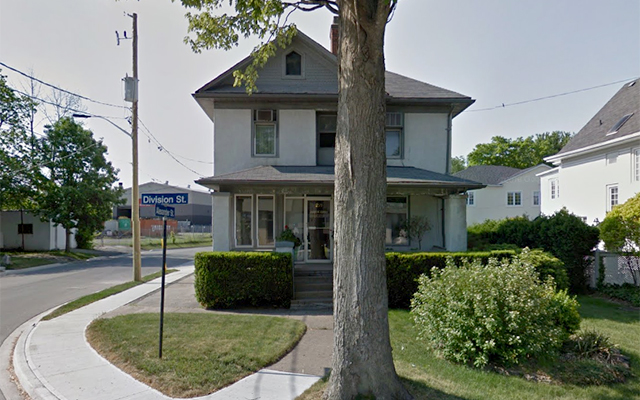 Scroll