Open Therapy and Active Workout
An Active Pass and Active Punch Card are required to access the open therapy time, open bike hours, and the open fitness workout. Passes and punch cards are non-refundable.
---
Active Punch Card Fees
| Visits | Resident | Non-resident |
| --- | --- | --- |
| 1 | $6.25 | $7.25 |
| 10 | $42.50 | $47.50 |
| 15 | $56.25 | $62.25 |
| 20 | $65 | $70 |
| 25 | $68.75 | $73.75 |
Active workout — fitness room rules
please be respectful of all members using the fitness room
do not drop or throw your weights
wipe down equipment following use
put all equipment away after use
Open fitness workout — 15 years and over
an Active Punch Card must be purchased to access the fitness room
a completed physical activity readiness questionnaire (PAR-Q) is required
orientation with a certified instructor must be completed before using the room or equipment
The fitness room is equipped with:
stealth body board
treadmills
arc trainers
seated elliptical
recumbent bikes and stationary bikes
rowing erg
multi-gym and assorted weights
exercise balls and mats
kettle bells, medicine balls, and battle ropes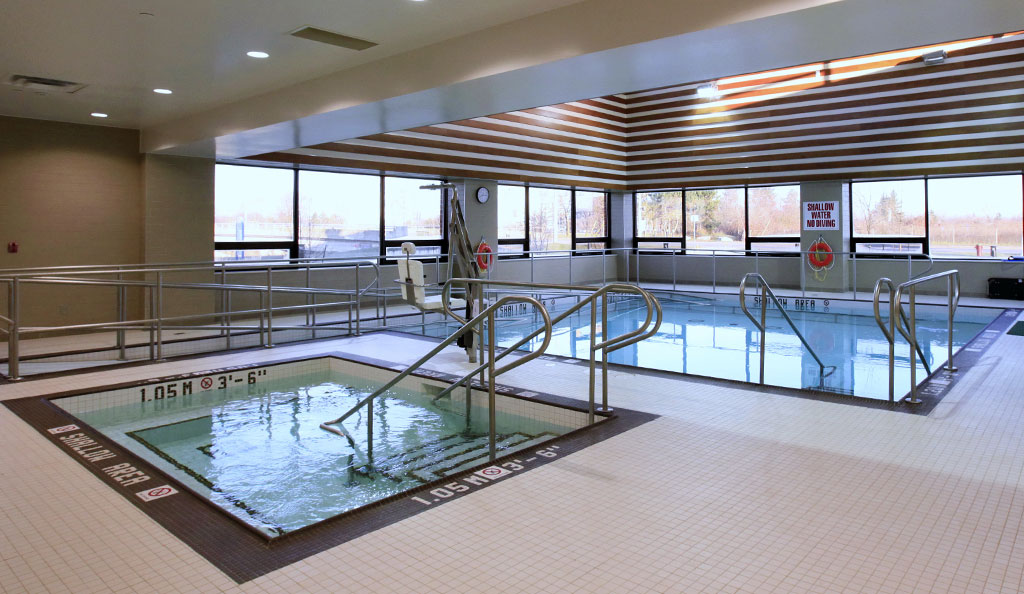 Therapeutic pool
The four-foot-deep pool is accessible by ramp, stairs, and personal lift. An on-deck shower is available for rinsing off before and after using the pool, which is kept at an inviting 90 degrees Fahrenheit. Two HyrdroRider Pro Aqua Bikes and one Hyderorider Treadmill are available for use at all times. Users are also welcome to enjoy the hot tub, up to a maximum of five people.
Open therapy — 15 years and over
A daily program in one-hour timeslots for individuals requiring time and space in the therapy pool to work through prescribed exercises or simply enjoy the water. There is no instructor for these pool times; however, a qualified lifeguard will monitor the pool area. An assortment of specialized pool equipment is available for use.
Please visit the Active Portal for the Open therapy schedule.
An Active Punch Card is required to access this program. Before your session, be sure to check in at the front counter to validate your card and receive a token for entering the pool area.
If you require assistance from a support person, please see our Policies and Procedures for more information.
Appropriate swim clothing is required. The City does not provide towels, so please bring your own. Only clean water shoes are permitted in the pool. Rinsing with the on-deck shower is mandatory before entering the pool.
Please do not enter the change room any earlier than 15 minutes before your timeslot. Wearing your bathing suit to the WCC is one way to reduce your time in the change room. After you have exited the pool deck, please do not stay in the change room for longer than 15 minutes; this helps us control the number of people in the room at one time.
Lockers are available to store your things during your timeslot. You can use your own lock; however, all items and the lock must always be removed after your session.
Contact
Recreation, Sport & Culture

905-735-1700 x4006
➤