Emergency Services
Fire services are delivered to residents of Welland by the City. While police officers, 9-1-1 dispatchers and paramedics (Emergency Medical Services) are delivered by the Niagara Region. This section provides information on all emergency services available to residents.
The men and women of the Welland fire department are dedicated professionals whose mission is to protect the residents, employers, and visitors of the City of Welland from the consequences of fires and other emergencies. This mission encompasses the "Three Lines of Defense" which are Education; Enforcement and development of fire safety codes; and Emergency Response
Welland Fire & Emergency Service has 48 career Firefighters and between 60 and 70 Volunteer Firefighters.
Visit our Fire and Emergency Services website for important information
The Niagara Regional Police is comprised of highly trained and motivated individuals dedicated to serving and protecting residents and visitors within the Regional Municipality of Niagara.
Niagara EMS is responsible for providing 24-hour emergency pre-hospital medical care and transportation to individuals experiencing injury or illness. Our dedicated team of highly qualified front-line paramedics work with up-to-date equipment and technology to give Niagara the best service available.
Emergency dispatch personnel play an important role at Niagara EMS. They manage over 80,000 calls per year.
City staff are available 24 hours a day, 7 days a week to respond to emergencies relating to: Road conditions that may pose a hazard to drivers such as icy roads during winter storms; Water emergencies such as watermain breaks; and Sewer emergencies such as sewer back-ups.
Report emergency service to 905.735.1700 x-3000. Business Hours: Monday to Friday, 7:00 a.m. to 4:00 p.m., After normal business hours, the answering service will refer emergency calls to the Foreman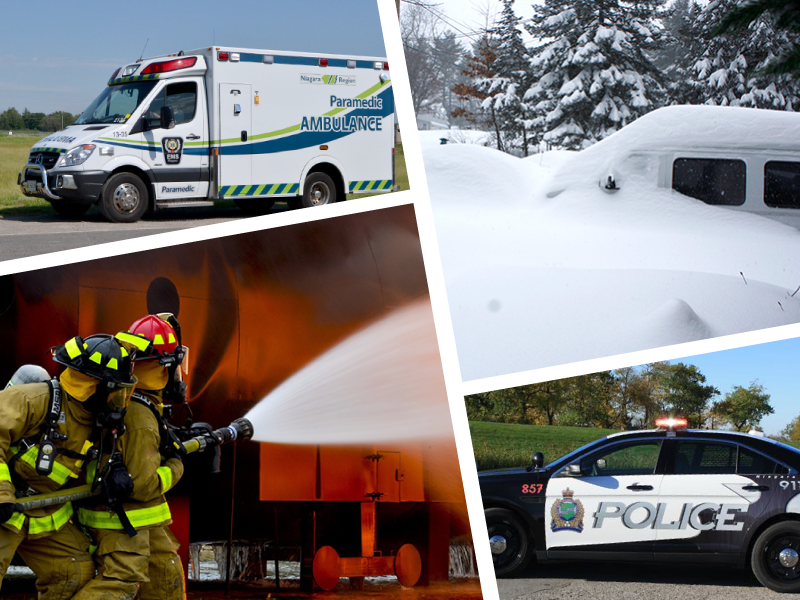 Scroll