2022 Municipal Election
2022 Nominated Candidates can be found on the Election webpage
The 2022 Municipal and School Board Election is Monday, October 24, 2022.
Thinking about running in Welland? Here is what you need to know to get you started in the process.
Call and book an appointment with the City Clerk's Department (905-735-1700 Ext. 2204) to file your Nomination for Mayor, City Councillor, School Board Trustee or Third Party Advertisers. The filing fee is $200.00 for Mayor and $100.00 for all other offices and payment can be in cash or debit at the time of filing.
Nomination Period: Nominations will be accepted from May 2nd, 2022 during regular business hours (8:30 a.m. – 4:30 p.m.) to August 19th, 2022 between 9am to 2pm. Information packages will be provided when you register your nomination.
Prior to raising campaign funds (contributions) or incurring campaign expenses you must file Nomination Papers with the Office of the City Clerk.
Contributions are any money, goods or services given to and accepted by, or on behalf of the candidate for their campaign.
All candidates are required to provide proof of identity, residency and Canadian citizenship (birth certificate or passport).
For examples of proof of identity, please refer to Ontario Regulation 304/14 – Voter Identification.
Niagara Votes 2022 - Candidates Information Session
Important Dates:
May 2, 2022 – Nomination and Registration Period Begins.
August 19, 2022 – Nomination Day – Nominations may only be filed between 9 a.m. and 2 p.m.
October 2022 – Advance Voting Days to be determined.
October 24, 2022 – Voting Day – Voting locations will be open from 10 a.m. to 8 p.m.
November 15, 2022 – New term of office begins.
Register to vote – or confirm you are already on the list
Residents can visit Voterlookup.ca at any time to find out whether their information is accurately reflected for inclusion on the Preliminary List of Electors for the 2022 municipal and school board elections. Eligible electors can also update their information, add a name to an address, or change their school support for electoral purposes.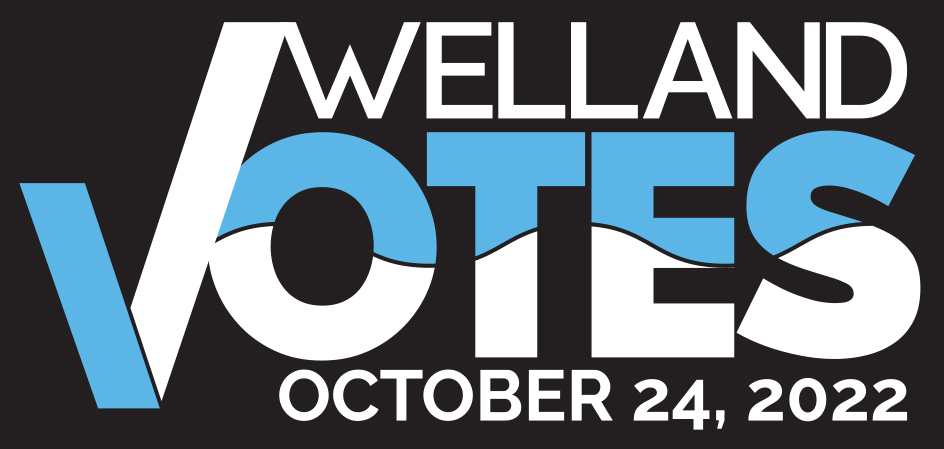 Questions, Assistance, and Accessibility
If you have questions, comments or concerns regarding the Municipal Election, please contact the City Clerk's staff. They will be pleased to assist you.
Telephone: 905-735-1700
Email: election@welland.ca
Scroll